President's Message
Greetings!
Welcome Spring!
Along with the beauty of freshly bloomed flowers and snow covered mountains, it's the time of year known as "the purge," also called spring cleaning. Rather it be your closet, your garage, your home or the office, we all know it's better to work through the purge before the heat of summer turns us into weekend warriors at the lake, or couch potatoes in any air conditioned room available to us.
While practicing the purge in my un-air conditioned garage, I began thinking about all things one can purge. Not just our belongings and dust bunnies, but rather looking inside ourselves, as professionals. After all, the way in which we approach both tasks and staff in the workplace can create clutter and unnecessary chaos. Especially if things are not done properly, with care, in a timely fashion.
In addition to our processes, we must also examine both our methods and approach. We must remember being a leader does not give us more power, it gives us more responsibility; to our investors, board of directors, the public, our boss, and just as important, our staff.
Without good staff, we are doomed for failure. The way in which we treat our staff can have a positive or negative effect on the entire operation, as well as the employee's home life. As leaders, we have a responsibility to treat our staff with dignity.  An employee who feels respected and recognized at work will remain with the company longer than one who does not.  As the old saying goes, "People don't leave companies, people leave people." And let's be honest, it's not just non-managerial employees who create problems.
The most valuable lesson I've ever learned from any of my former superiors is not what to do, but rather, what not to do.  One of the easiest, inexpensive ways to retain good employees is by showing them respect.  As leaders, we must learn to identify and purge our own negativity and bad attitude before we enter the workplace. As I recently heard a leadership coach say, "Get your head straight".  She couldn't have said it any clearer.
Here's to the Purge!
Jan Harrold, President
Central California SHRM Monthly Meeting
Tuesday, April 17, 2018
Program Luncheon
Tornino's Banquets 11:30 a.m. to 1:30 p.m.
The Data Driven Leader
Presented by:
David Swanson
Program description: David Swanson, who has over thirty years of experience in HR management and author of The Data Driven Leader, states using data to drive measurable business outcomes and preparing the workforce to be important participants in driving the strategy and sustainability of an organization are today's keys to success. David will talk about how organizations can design data-driven people strategies that can be a catalyst for change and transformation. Attendees will gain an overall understanding of the field of data analytics as it pertains to people practices. In addition, information will be provided to motivate and inspire leaders to combine the power of data and analytics with their own expertise, thus enabling the more effective use of an organization's most precious resources: people's time and energy. Everyone in attendance will receive a complimentary gift from Mr. Swanson, so reserve your spot soon!
If there are any topics you would like to hear more about, please contact Karen Gill at vice.president@centralcalshrm.org
Membership
I've been receiving positive feedback from many about the 3-minute networking exercise we started this year.  Many continue to identify "Networking" as one of the reasons they joined and renewed their membership with CCSHRM. We're pleased that memberships continue to grow and members continue to renew.  This tell us that our organization continues to provide a good value that is unmet elsewhere.  Always keep in mind that this is your chapter.  And we are always looking for better ways to serve our members and improve upon its value.  If you are looking for additional ways to get more involved with the chapter, let us know!
Visiting our website
www.centralcalshrm.org
Welcome our newest CCSHRM members!
| | | | |
| --- | --- | --- | --- |
| First Name | Last Name | Title | Company |
| Tiffany | Spencer | HR Director | Blair, Church & Flynn |
| Elizabeth | Munoz | Client Advisor | Regency Invest. Advisors |
| Rachel | Rodriguez | Saftey Manager | Anlin Industries |
| Ana | Martinez | Benefits Specialist | Fresno EOC |
| Erika | Blankenbiller | HR Specialist | Elite Team Offices |
Membership – Non transferable
Membership in Central California SHRM is by individual; not by company.  Therefore, if you find yourself changing jobs/companies, your membership follows you.  You are not able to transfer your membership to someone else in your company.
If you have any questions about your membership, please contact me at 559.447.4600 or by email below.
 Dennis Claborn, Membership Director
Legislative Update
Personal Liability For Retaliation: HR Beware
While there are many important bills making their way through the legislature, including potentially many new training obligations, one of the most serious changes to employment law is a bill that may make HR workers personally liable for their employment decisions.  California Fair Employment and Housing Act (FEHA) prohibits discrimination and harassment by employers, labor organizations, or employment agencies based on various factors, including but not limited to race, religious creed, gender and sex.  Existing law further prohibits discharging or discriminating against a person who has opposed any practices prohibited by FEHA or who has filed a complaint, testified, or assisted in any proceeding for a violation of FEHA's provisions.
Introduced on February 11, 2018, Senate Bill 1038 would impose personal liability on an employee of an entity for violating the prohibition against discharging or discriminating against a person who has opposed any practices prohibited in FEHA or has filed a complaint, testified, or assisted in any proceeding for a violation, regardless of whether the employer or covered entity knew of or should have known of the conduct.  SB 1038 can leave current and future supervisors and Human Resource professionals inhibited to effective decision- making for fear that every personnel decision they make can potentially leave them subject to individual liability and financial ruin.
The CCSHRM Board has decided to formally oppose this legislation and offered its name as a signator on a letter by Cal-SHRM to the legislature officially opposing the bill.  The legislation is set for its first committee hearing on April 17, 2018 before the Senate Judiciary.
Paul Bauer, Legislative Director
Member Spotlight
Meet Tre Ellis!
Tre holds the position as Director of HR/Payroll at the Central Valley Regional Center. Tre has 15 years of experience in her field and is driven by her passion of faith, dog rescue and advocacy, and addiction recovery. As an HR professional her passion is to equip managers on how to lead and grow their people. While working for a venture capital firm during law school, she was asked to develop the HR department from scratch. Since then she has fallen in love with HR and continues to develop the department.  Tre is a proud member of CCSHRM (former Legislative Director of 2012), SHRM, and the Association of Legal Administrators (former VP of 2012). Tre balances work and home life by getting tons of sleep and spending time with her family (time is valuable to her). She promotes wellness at work, which allows her and her team to stay balanced. Not to mention having fun and laughing is also helpful.
Tre graduated with a Bachelors in Philosophy and holds her PHR, SHRM-CP. Tre believes that a great leader embodies the mission of the organization and inspires others to do the same. Working at CVRC, this dream has become reality. Her work philosophy is simple: enjoy what you do and have fun with it. She takes responsibilities for her mistakes and tries to do better next time. Tre's tips for HR professionals that everyone needs and HR bestie- someone smarter than you, someone you can look up to and learn from. Then in return, be that for someone else. In other words, pay it forward.
Macy Blattel, Communication Director
SHRM Foundation Fundraiser- Save the Date!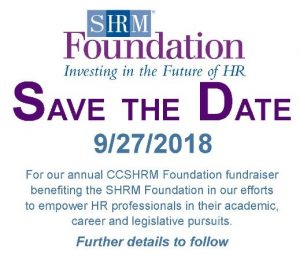 Brandi Williams, SHRM Foundation Director
CCSHRM Summer Mixer- Save the Date!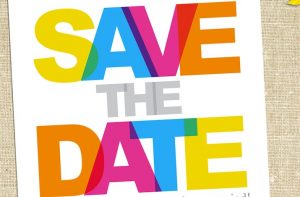 Join us on Thursday, June 14th at 5:30pm at the Elbow Room for an evening of cocktails and conversations with fellow CCSHRM members and HR professionals. Mark your calendar! More details to follow.
Keely Coyle, Marketing/PR Director
CCSHRM Kid's Summer Drive
We are holding a Summer Kids Drive for the Marjaree Mason Center! The Marjaree Mason Center supports and empowers adults and their children affected by domestic violence, while striving to prevent and end the cycle of abuse through education and advocacy. MMC is Fresno County's only dedicated provider of domestic violence shelter and support services, including education for victims and youth. The Children's Services Coordinator assists the children in school-services coordination, positive play strategies and assists moms with parenting classes.
Summer items are in need and we are asking for help in providing some summer fun and necessities for the kids. Please see below on the items that are on their Summer Wish List:
Baby Bottles                 Sippy Cups                   Water Toys                 Swim Suits
Tank Tops                    Shorts                             Sandals                          Sunscreen                     Hats
Deodorant                   Outdoor sports Equipment                 Bikes
Nonperishable snacks are always welcome! 
The drop off locations will be located at: Sebastian 7600 N Palm Ave, Fresno CA 93711 Times: 9am-4pm. Please take your items to the receptionist and let them know it is for CCSHRM. You may also drop off your items at our SHRM Luncheons on 4/17 & 5/15 at Tornino's Banquets 5080 N Blackstone Ave, Fresno CA 93710 Time: 11:30am-1:30pm.
Let's give the kids a great summer! Deadline for donations will be 5/25/2018. Any questions please Contact Karina Alvarado at, Kalvarado@snydernet.com or communityrelations@centralcalshrm.org
Let's Play!
Karina Alvarado, Community Relations Director

2018 Workplace Conference
The 2018 Workplace Conference was help on March 14th at the DoubleTree in Downtown Fresno. The event was a blast full of mixing with other professionals, learning about the new laws with Paul Bauer, and learning about Ubuntu with Dr. Bob Nelson. We hope that you enjoyed yourself and planning on attending next year. The Conference committee is starting to plan 2019's conference and looking for members to be apart of the committee. If you are interested in serving on the committee, reach out to any of the board members. We hope to see you at the 2019 Workplace Conference.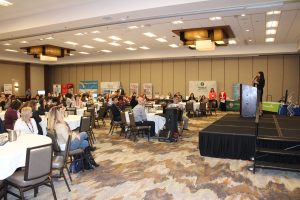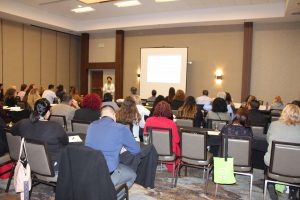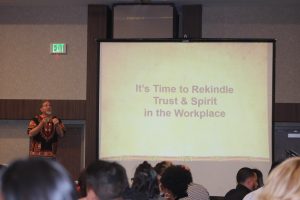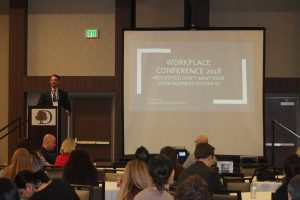 Special thanks to the 2018 Conference committee for putting together a successful event!
CalSHRM's 2018 California State Legislative & HR Conference
The 2018 California State legislative & HR Conference is where key business decision makers, business owners, senior officers and HR professionals come to learn about important CA and federal legislation and employment issues that could impact businesses. The 2018 conference will be held on April 25-27 at the Sheraton Grand Hotel in Sacramento. Register today!
http://www.cvent.com/events/calshrm-s-2018-california-state-legislative-hr-conference/invitation-fc92a1de3ed84a85a9f73f29528d73bb.aspx
Social Connections
Did you know that CCSHRM has a Twitter and Facebook page? Follow us at the links below. We will have updates on upcoming events, tips, news, and much more! Be sure to like, follow, and share our page.