HUMAN RESOURCES DIRECTOR # 109087SHRM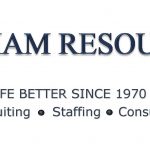 Website DenhamCareers Denham Resources
Making Life Better Since 1970
Denham Resources has an outstanding director level human resources opportunity for an HR professional with 8+ years' experience at the director level. This excellent position will report directly to senior management and focus on labor relations, including bargaining negotiations and administration of labor union contracts, while staying current on federal, state and case law changes, among numerous other responsibilities. This key senior management position is responsible for driving the organization's Human Resources efforts in culture, compliance and employee relations.
SALARY $150K Yr
REQUIREMENTS
Bachelor's degree in human resources management, 8+ years of management experience in human resources, experience in union work environment, with advanced knowledge of principles and practices of personnel administration. Bilingual Spanish ability is desired but not mandatory. Directly manage the human resources staff.
Send your resume in MS WORD format to Dave Denham at dave@denham.net or call (559) 5284. Please refer to the job order number in your response. All inquiries will be held in strictest confidence and all appropriately qualified individuals will receive the courtesy of a response.