HR/RECRUITER #109102CCSHRM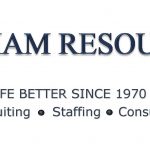 Website DenhamCareers Denham Resources
Making Life Better Since 1970
Denham Resources has an excellent opportunity for an outgoing, confident Recruiter with HR experience. If this sounds like you, please call us today.
RESPONSIBLITIES
-Strong ability to recruit through postings and phone screenings.
-Understands the practices of Human Resources confidentiality, policies, procedures, and basic HR knowledge.
– Set up interviews
-Assist with new hire orientation and on-boarding process
SALARY  $17.50 – $20.00/HR, DOE
REQUIREMENTS
-Minimum of 3-4 years' current work history in Recruiting
-Minimum of 3-4 years' experience and knowledge in HR responsibilities
-Must be Bilingual Spanish
-Proficient with MS Office Word and Excel
-Excellent written, verbal communication and analytical skills
Send your resume in MS Word format to Fabrizia Smith at fabrizia@denham.net or call (559) 222.5284 if you have any questions. Please refer to the job order number in your response. Compensation commensurate with qualifications.
Visit www.denham.net to see other job listings. All inquiries will be held in the strictest confidence.